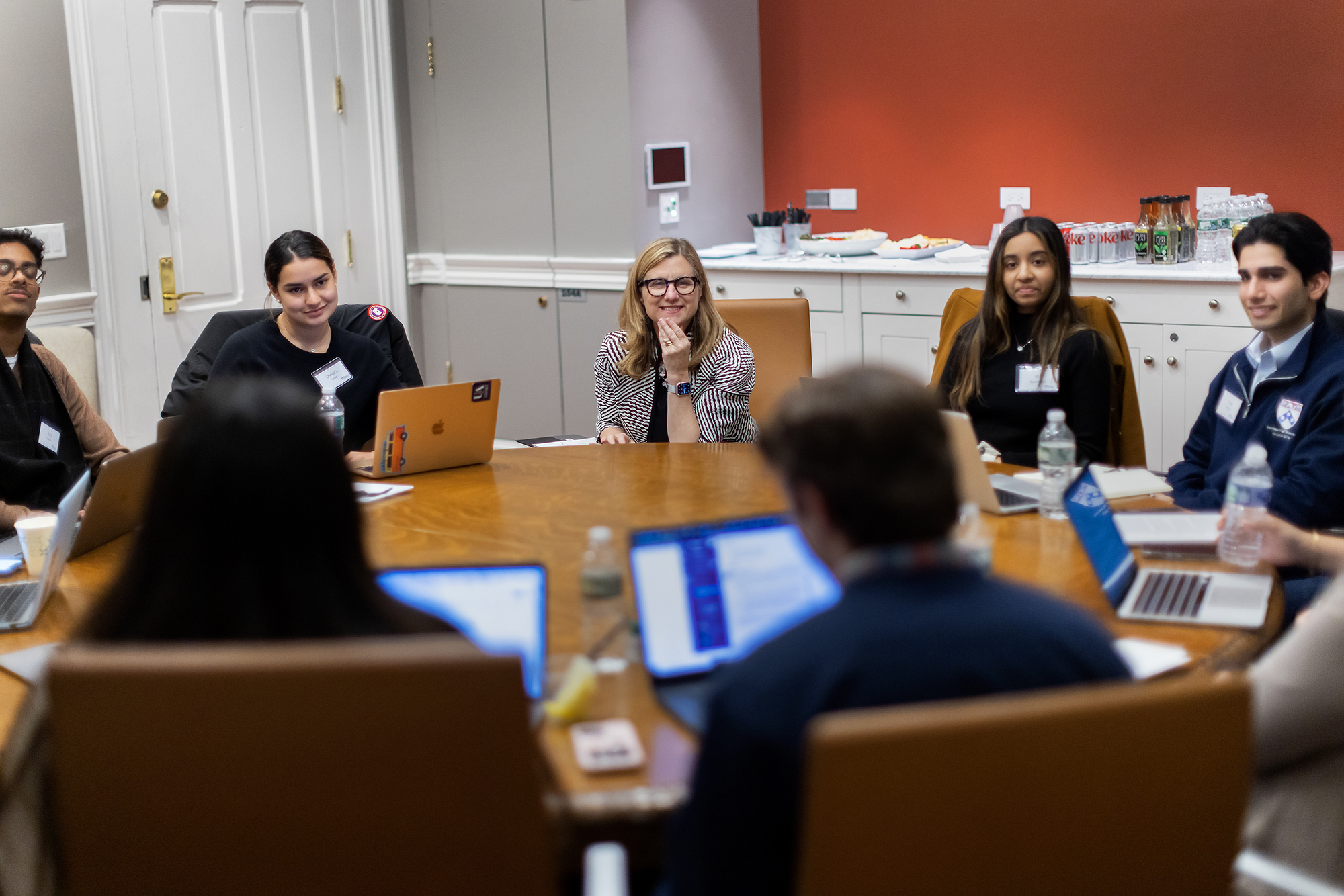 One year ago this week, it was announced that Liz Magill—then the provost and executive vice president of the University of Virginia—was nominated to become Penn's ninth president. When officially confirmed on March 4, 2022, the accomplished higher education leader and scholar of law described the "virtuous impatience" of Penn people—their sense of urgency in putting their knowledge to work, and their drive to do good with it.
"The incomparable faculty, students, staff, leadership, alumni, and friends make this University's momentum unstoppable," she said during the Trustees' Stated Meeting that day. "Together we are going to launch Penn to even greater heights."
Magill officially began her duties on July 1, jumping headfirst into a flurry of meetings every day with the University's faculty, staff, and students—a "highlight" of her job, she'd later say. She reflected that Penn students "learn and engage with faculty second to none," and that Penn's faculty is a diverse body that "contributes to our fundamental knowledge, deepens our understanding, and shares discoveries with the world."
Just days into her tenure, she invited the entire Penn community to an ice cream social on College Green, where she served as a scooper. In her first six months, she visited and met with students, faculty, and staff from all 12 schools, as well as numerous undergraduate and graduate student groups and city and state leaders.
In August, as she welcomed the Class of 2026 to campus, she asked students—pen and paper in hand—what they were most looking forward to doing on or off campus this year (and what she should check out, too). She discussed the importance of productive disagreement in her Convocation Address, launched Tomorrow, Together to inform Penn's strategic next steps, and was inaugurated on Oct. 21 at Irvine Auditorium. A historic moment, Magill's inauguration meshed old and new traditions alike, and featured a picnic and concert at Shoemaker Green as well as an academic symposium with U.S. Supreme Court Justice Elena Kagan.
"Making the moment," Magill described during her Inaugural Address, is like "drawing down the lightning"—a nod to Penn founder Benjamin Franklin, who, using a kite and key in the mid-1700s, worked to better understand electricity.
"We welcome a challenge here and we thrive on it," she continued. "To answer the great challenges of our time, opportunity and truth will be our conductors, our kite and key, our means to draw down the lightning."
Magill attended athletics events on and off campus, even throwing the first pitch at a late-summer Phillies game and presenting the official game ball at a Sixers game in the fall. She guest-hosted a morning show at WXPN, ceremonially broke ground on new building renovations and expansions on campus, and helped kick off various anniversary programming while unveiling revamped spaces for students.
Magill celebrated Penn and its future with the acceptance of several major gifts, which will, to name a few, establish a new Basser Cancer Interception Institute, McGraw Center for Educational Leadership, and a Stuart Weitzman Theatre, and accelerate the existing Colton Center for Autoimmunity. Penn Libraries also acquired the archives of The Philadelphia Orchestra and the Academy of Music—"an invaluable resource for scholars and a treasured part of the cultural life of the city of Philadelphia," Magill said.
Out and about on National Voter Registration Day and Election Day, she upheld her responsibility to vote and encouraged others to do so, too. She commemorated Veterans Day, attended Engaging Minds in New York City, applauded all those involved with Penn's robust Named Scholarship program, and launched a social media campaign to spotlight those at Penn involved in service, all while keeping the University community informed about important announcements, including those that relate to Penn's endowment and sustainability.
To close out a busy semester, Magill sent a special, animated e-card to all those at Penn, with an emphasis on best wishes for the year ahead. In her recently published Welcome Back message in the Almanac, she encouraged all to give thanks, especially to staff. "We cannot do it often enough," she wrote.
"As we enter 2023, let us all take the time to express thanks to those who—among countless others performing essential work that keeps our University smoothly functioning—keep our buildings running, our grounds maintained, our classrooms and labs geared up, our emergency rooms open, our students coached and directed, our budgets balanced, our technology services functioning, our admissions files read, our dining halls serving, our rarest and most precious books and materials cared for, and our community safe," Magill said. "I look forward to all that we will achieve together in the year ahead."