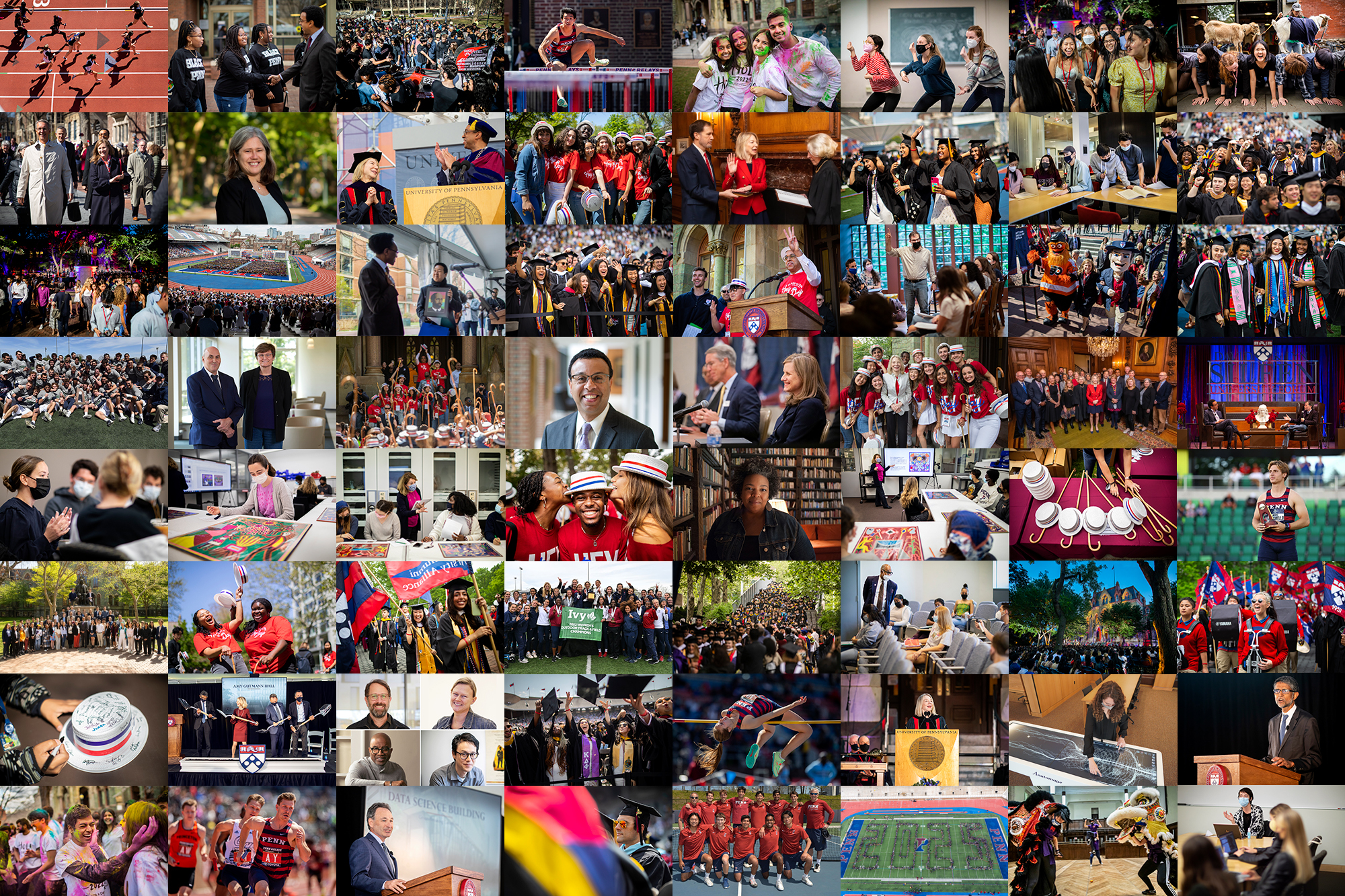 If the past 12 months have shown anything, it's that tradition and evolution can strike a balance. More than two years into a landscape altered by the pandemic, many aspects of campus life have returned. With the availability of COVID-19 vaccines for adults across the country and around the world, the summer months welcomed campus life back to West Philadelphia carefully, culminating in a Move-In for the Class of 2025 that felt nearly normal. Vice provost and dean of admissions Whitney Soule marked Convocation by welcoming the new class, who, along with Penn's undergraduates, graduate students, and postdocs, applauded a return to in-person classes. New College House greeted 427 students into its state-of-the-art halls.
At its helm, Penn confirmed its 9th president, M. Elizabeth Magill, in March. Magill serves as Executive Vice President and Provost of the University of Virginia, and will assume the Penn Presidency on July 1. Magill was voted in by Penn's Board of Trustees and accepted the position with "humility and an urgent call to purpose," she said. Magill succeeds Amy Gutmann, who announced last year that she would conclude her tenure as Penn's President after serving in that role since 2004.
The University marked the end of its The Power of Penn Campaign—the most successful fundraising and engagement effort in Penn's history. It galvanized a collective effort to support Penn's 12 schools and six centers, raising gifts from 389,535 donors. In the last year, Penn continued to move the goalposts in innovation and research: The new data science building, Amy Gutmann Hall, broke ground, ushering in what is planned to be a "data science revolution," by School of Engineering and Applied Science Dean Vijay Kumar. The global health community recognized Drew Weismann and Katalin Karikó for their pioneering mRNA research which enabled the rapid development of highly effective COVID-19 vaccines, awarding them the 2021 Breakthrough Prize and Lasker Prize. Weissman, the Roberts Family Professor of Vaccine Research in Penn's Perelman School of Medicine, and Karikó, an adjunct professor of neurosurgery at Penn and a senior vice president at BioNTech, were honored with what is widely regarded as America's top biomedical research prizes. Penn Medicine's Pavilion opened in November 2021, a new patient facility with groundbreaking technologies designed for the best care for patients and optimal working environments for health care staff.
November saw the departure of Penn's 8th president, Amy Gutmann, who bid farewell to serve as the U.S. ambassador to Germany. Wendell Pritchett filled the role of Interim President, with Beth Winkelstein serving as Interim Provost. As the school year progressed, the awards started. The men's squash team won its first Ivy League title in 53 straight years. Lia Thomas won the NCAA title in 500-meter freestyle, the first woman in Penn's history to win an individual national title.
As the spring semester passed, with students, faculty, and staff abiding ever-shifting COVID protocols, academics and research remained steadfast. One hundred and twelve Penn students were awarded fellowships and major prizes by the semester's end, and a spirited celebration was not dampened by rainstorms for Penn's 266th Commencement. Addressing the graduates at Franklin Field, Interim President Pritchett said, "You have experienced more and endured more than many classes that came before you. You have more than met the challenge." And the Class of 2020, which graduated in the midst of lockdown after an abrupt shift in campus life and learning, finally gathered in-person for a Commencement celebration that truly was like no other.